On September 3, 1964 President Lyndon B. Johnson signed into law the Wilderness Act, a federal law that protected thousands of acres of land in the United States from development of any kind. The Wilderness Act states that no motors may be used in the wilderness—no cars, no trucks, no jeeps, no generators, and no chainsaws.
For me the "no chainsaws" provision has meant three decades of work in the woods. I'm proud to say that I know how to use an axe to chop a tree out of the trail and that I can work with a partner on a crosscut saw, figuring out the pressures on each log as we saw through large trees.
My first wilderness trail partner was Tom Van de Water, my high school sweetheart. We carried monstrously heavy packs around the Moose Creek District of the Nez Perce National Forest in the Selway-Bitterroot Wilderness in central Idaho. The combined load of trail tools, gear and ten days of food sometimes made my pack so heavy that I couldn't lift it up to my shoulders to put it on. I'd have to lean it against a tree, sit in front of it, wiggle my arms into the straps and slowly stand up.
After Tom and I married and had our first son, Lee, we worked on Gardiner Peak Lookout, a remote place at least a day's walk from anywhere. 1988 is famous as the year that Yellowstone National Park burned but it was also dry in other parts of the west. We spotted many lightning-caused fires that summer, including one just a short walk below the lookout tower. We'd walk over to it at dusk and admire the creeping line of flames. It spread slowly, at times reaching the base of a tree with drooping limbs. These would flare up so the tree became a bright candle of flame. After we left to go back to our teaching jobs in the east, the weather got even drier and the next lookout had to leave the lookout in a helicopter before the flames reached her.
Our next lookout—Coolwater Ridge—featured two alpine lakes below the rocky summit and a trailhead leading into the Crags, stunning peaks that are the highest mountains in the area. We spent many happy summers on Coolwater, first with Lee and then also with his baby brother, Jay. We may be one of the few families in the United States who ended our daily trip to the "beach" with a steep one-mile walk up a mountain.
When Lee was old enough to have a summer job we bid on our first wilderness trail contract. The work, called "cut and run" in Forest Service vernacular, involves backpacking for miles and miles and cutting out downed trees as we come across them. Our "Lower Lochsa" contract also features an extraordinary number of water bars—logs or rocks placed diagonally across the trail to get water off the tread. Each bar gets cleaned of debris and rocks.
Trail work for me is exuberantly satisfying and, at times, deeply exhausting. We walk all day up and down mountains carrying heavy packs on our backs and shovels in our hands. When we find trees across the trail it can take hours to chop, throw limbs, and saw the path clear. The rewards include alpine lake campsites and mountaintop sunsets in a wilderness where we rarely see other human beings. (Animal sightings include: black bear, elk, cougar, moose, coyotes, fisher, wolves, badger and bald eagles.)
It is imperative to me to keep wilderness wild and I support Wilderness Watch in their efforts to monitor and, if necessary, bring to court groups that infringe on wilderness. The Wilderness Society also provides wilderness support. For a quick read about wilderness, check out my unpublished Middle Grade non-fiction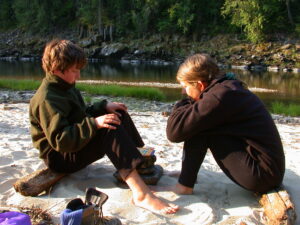 manuscript Clearing the Trail: A Family in the Wilderness.

I've also got a couple of personal essays about working and hiking in the wilderness with my family. Travelers Tales published A Mile in her Boots, Women Who Work in the Wild, edited by Jennifer Bovay which includes my essay "The Adventure Family". They also published Bovay's collection Wild with Child, Adventures of Families in the Great Outdoors. My essay "Uphill Infinity and the Chocolate Chip Cookies" begins the book.
This past summer I had a few extra days after the trail work was finished and before we needed to head east for school. I took five days to hike across the wilderness, following the Selway River twenty-six miles up to the interior Moose Creek Ranger Station and then further upriver to Bear Creek where I headed east and eventually arrived in Montana at the trail's end at Lost Horse. It was a magical journey, not always easy, but something I am so grateful to have been able to do. Read about the adventure here: Moose Creek journey.