For many years my public radio station, North Country Public Radio, kept airtime available for listeners to speak their minds. I enjoyed hearing these voices and in the fall of 2000 I wrote up a short piece about the census and rural decay. I'd been running on a back road near my home and saw the bright white and red census bags hanging off the doors of several abandoned homes. It made me think that maybe ghosts were going to be part of the official count, and that their abundant numbers in the North Country would add to our population and mean we'd get more government attention.
I stopped by the radio station with my handwritten essay and the news director gave it a go. With a dry throat I recorded my first commentary and the positive feedback was enough to keep me writing commentaries every month for several years. Many of them are stored at ncpr.org. Here are a few that stand out.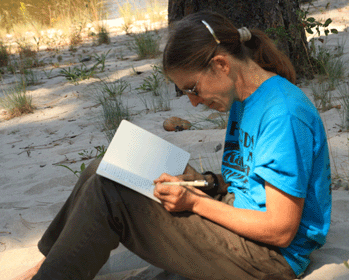 October 2001
I wrote this essay after the September 11th disaster, when the bright flowers in my garden gave me more sustenance than the vegetables.
January 2006
What an amazing experience it was to stand next to a former president, and a man who lives his values.
December 2001
The best way to get rid of the holiday blues is to go skinny dipping in an icy river.
Janurary 2002
I wrote this as part of a literacy series on NCPR.