Our thermometer read twenty below zero on Monday, February 16th as we packed up our sleds and stretched bungy cords across dry bags and snowshoes. Tom and I had encased our bodies in layers and layers of clothes, all either wool or a wicking synthetic. No cotton allowed, not even underwear, as once we started out on our journey we would not be changing our clothes for three days. "Killer cotton" doesn't dry out when it gets damp and the wet fabric would lead to lots of shivering and possibly hypothermia.
Our friend Doug arrived in his truck and we slid our sleds and ski into the back then hopped in. We'd decided to start our trip in Newcomb, skiing in on the old road that leads to the Great Camp at Santanoni Lake. We'd turn off that trail after 2.5 miles and head 4.5 miles to Moose Pond, a lovely place with great views of the mountains.
For me the beginning of a winter trip is exciting and also terrifying. I love to ski and snowshoe and explore wild places in the winter but it's much easier to do when the end of the day means coming back to a vehicle and heading home. At the end of this day we'd be choosing a campsite and facing the long, bitter cold night.
In the parking lot at our trailhead we stepped into our skis and tied the ropes from our sleds to our belts and began our journey. The first mile was uphill and we warmed up quickly, though the temperature was still sub-zero. We passed the farm buildings, beautifully maintained, built in the late nineteenth-century as the source of all the food for the Great Camp four miles away. No one lives there now, though I imagined smoke coming out of the farmhouse and a caretaker waving as we skied by.
When we turned off the main trail we were lucky to follow the tracks of a group of snowshoers. Pulling sleds through deep snow is exhausting work but pulling sleds on a nicely packed trail is a joy. We stopped often to drink tea from our thermoses and snack on high-calorie munchies. It's critical on a winter trip to keep up the intake of fluids and calories, to keep our "engines" running high.
By mid-afternoon we'd reached a long uphill leading to a pass above Moose Pond. As we skied down the other side the sun set behind the steep slope of Moose Pond Mountain and the temperature dropped ten degrees. The snowshoers ahead of us had set up their camp above the pond and suddenly we were plowing through deep, untracked snow as we continued along the trail. We took turns leading and began the process of looking for a suitable campsite.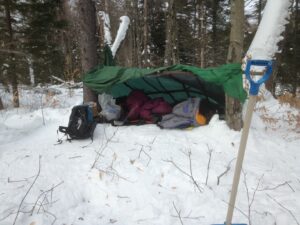 We're rather old-fashioned in our winter camping style. We dig down to the ground and clear a spot for a campfire. We look for small dead trees and saw them up then split them with an axe, accumulating a valuable pile of wood to keep us warm and cook our dinner. And we make a shelter to sleep in, using tarps and poles lashed together to create a low lean-to, with a flap across the front to keep out the wind and snow.
After about a half-mile of thrashing along the trail we found a site above a small stream, a place with some flat ground away from the trail and with access to water. We detached ourselves from our sleds, switched to snowshoes and worked like mad to get set up before dark. Tom worked on creating our leanto while Doug and I searched for wood. A couple of small trees had fallen across the trail and I sawed them out, knowing that though the wood was green it would be great for the shelter. After dragging in some wood Doug took a shovel and dug out a big pit. The snow was deep enough that the edges of the pit would be "benches" for us to sit on.

And then, at last, we had prepared for the evening and could stop and relax, exchanging our ski boots for warm pack boots and heating up water for soup and cocoa. Doug ate a freeze-dried dinner while Tom and I heated up foil packets of pre-made burritos. We wolfed down the food and stood by the fire, turning around to warm up all sides of our bodies. Beyond the firelight the sky was black and filled with stars and the woods were completely silent.
We took turns leaving the warmth of the fire to prepare our bedding, the cold nylon of sleeping bags on top of the puffed up layers of Therma-rest pads. As experienced winter campers we knew we didn't want to get into our sleeping bags too early, that the campfire was the warmest place to be. Tom made a batch of greasy popcorn that cooled almost as soon as he'd popped it, but we stuffed it into our mouths, grateful for the crunchy calories.
Though it had been dark for hours and seemed to be the middle of the night we headed for the shelter just after 9pm. I took off my boots and my parka but left on my long johns, wool pants and many layers of fleece shirts and a down vest, also adding a second balaclava to my head, under a warm hat with flaps that I tied under my chin. On my feet– warm wool socks and a pair of fluffy down booties.
Here's the tricky part about sleeping outside on a sub-zero night– breathing. If I put my head down into my sleeping bag I couldn't breathe much and if I stuck my head out of the bag my nose and face got cold. I discovered I could breathe through the mesh of my thinner balaclava so that went over my mouth and nose but it wasn't a comfortable night. I woke up often and twisted and turned as I tried to stay warm and also give myself enough oxygen.
In the morning we all agreed it had been a tough night and none of us had slept well. Tom got up first and discovered coals in the campfire, enough to ignite new pieces of wood. The world seemed a friendlier place in the daylight. We didn't have a thermometer but we could tell by the squeak of the snow that it was well below zero. The hole we'd chopped in the ice of the stream was iced over so thickly Tom almost couldn't bash it open with a stick of wood.
Day 2 of our winter trips is a pleasure, the day when we don't pull sleds and have already set up camp. The worst part of it is putting on our cold ski boots, but we warmed them by the fire and as soon as we'd put them on our feet we rushed to get on our skis and day packs. The best way to stay warm on a cold day is to keep moving and breaking trail got us toasty warm in no time.
The uncomfortable night seemed far away as I skied through deep woods, the beauty of the day creating a huge, warm joy in my mind and body. We'd been outside for over 24 hours now and it didn't seem scary any more to be in such a remote place on a very cold day.
We skied up and down hills, working hard on the steep ones, and stopped for lunch at a frozen brook. We could hear it gurgling along under the ice and snow. Ahead of us the trail went steeply up in a narrow channel and we agreed that it would be difficult to maneuver up that slope and it was time to turn around. Skiing back to camp was easy on our newly packed trail and when we reached our campsite we had time to switch to snowshoes and explore the area around Moose Pond.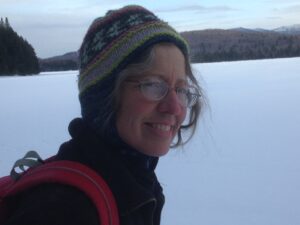 Our second night was a little warmer, and much easier,as if we'd all passed some invisible test on the first night and now were allowed a good sleep. In the morning we broke camp, gradually, heading back often to the campfire to warm our hands. With sleds packed up we headed out, one more day ahead of us to enjoy the quiet and peace of the winter woods.